one year ago today, on Leap Day, Luther was born. That's him, I do believe, 4th from the left.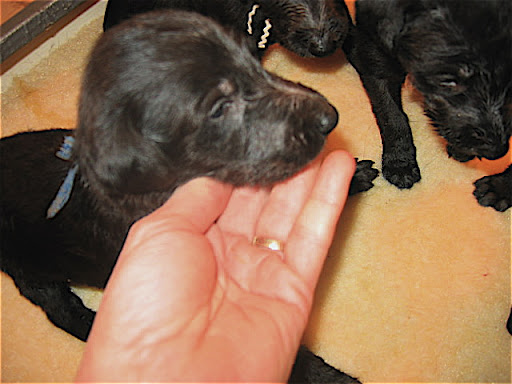 He was born little boy Blueboy and we had no idea if it would be
Blueboy or Greenboy
coming home to live with us. Turned out it was little Blueboy.
He grew.
and grew.
Grew.
And grew some more.
And now his back is taller than the dining room table.
No, there's no dining room table in this shot. But you
can
see that Luther's belly easily clears Ottoman Turk - who does duty as the coffee table - and by extrapolation [how's
that
for a word?!] you may conclude that what I say is truth. . . .
His first rawhide bone was too big for him to carry.
Now, he can go through the biggest ones with ease and he rarely gets one anymore because I can't help but think it's not all that great for him to be eating all that rawhide.
We switched to a big heavy rope with knots in it. That lasted several weeks until he learned how to shred it. This is his second rope toy - shredded.
Also: the knots hurt when he swings the rope and makes contact, and when he flings it in the air, we worry it will crash into the furniture or clear breakables off the table. In the morning while we have our coffee, he likes to do a nunchuck routine on the foyer rug. . . . It's a bit hair-raising.
As you see.
For his birthday, we are trying something new. A braided fleece toy.
He likes it! After Christmas, I had found a much smaller red, green and white one on sale at PetSmart for a quarter. Yep, that's right: 25 cents. I brought it home. We call it the Italian snake. It's lasted almost a month - Woo hoo! Of course, it's been shredded down to its two end knots, but Luther is quite fond of it. I think he was just getting tired of getting hit in the head with the heavy rope nunchuck.
Here is the birthday boy with his birthday toy.
Happy birthday, Luther! Let the games commence.
P.S. - Sister Saphira sent this picture of her birthday celebration - happy birthday Saphy!